Garden Of Life Raw Protein Powder
$49.99
Description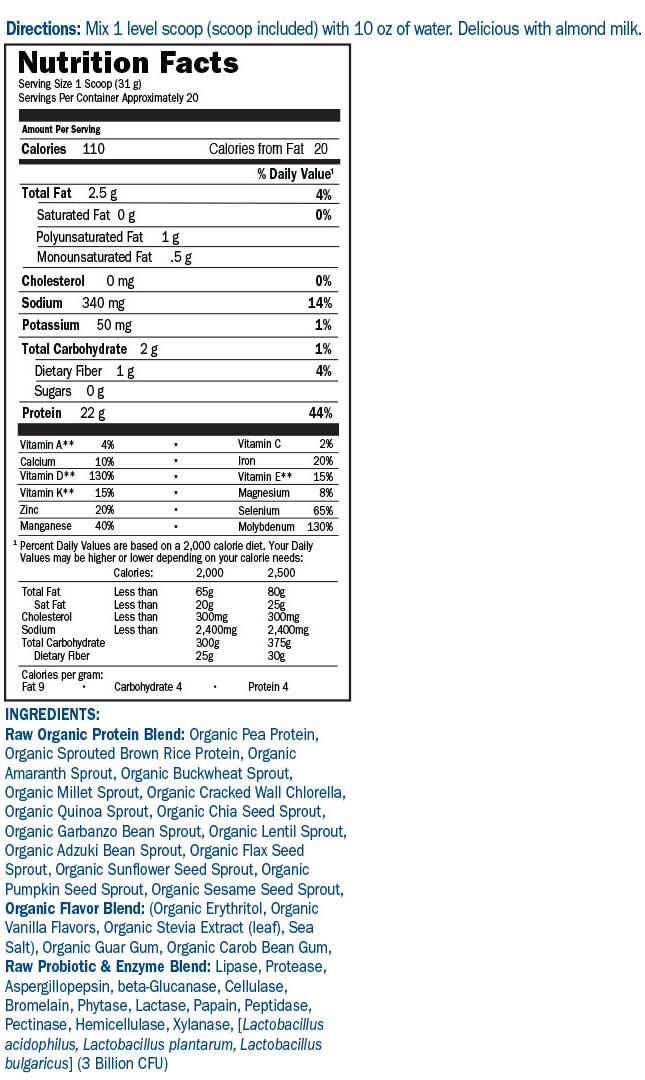 Formula Improvements:
·        Increased Protein from 17g to 22g per serving – 30% More Protein
o   Now includes organic pea protein
·        Now 0g Sugar (previously <1g)
·        Enzyme Blend from 4 to 13 total Enzymes,
·        Now NSF Gluten Free Certified
·        Now Vegan Certified by Vegan Action
·        Now Kosher Certified
Raw Organic Protein is smooth, creamy and delicious. Every sip rewards your taste buds while it helps build and repair muscles. We use the cleanest proteins, including organic peas grown and processed in the USA, plus 13 organic sprouted grains, seeds and legumes, with probiotics and enzymes added to promote comfortable and efficient digestion. No Compromises. No Excuses. TrulyCLEAN.
·        22g Clean, Organic Plant Protein
·        Smooth & Delicious with 0g of Sugar
·        3 Billion Live Probiotics & 13 Enzymes
·        4g Branched Chain Amino Acids (BCAAs)
·        Whole Food Vitamins & Minerals, including Vitamin A, D, E & K
·        USDA Organic, Non-GMO Project Verified, Kosher, Raw, Vegan, Gluten Free, Dairy Free, Soy Free